A new mobile app from Twitter launched on the 24th January called Vine. Vine allows you to create small 6 second looped video clips, and share them through your Twitter feed, or on the feed on the app. An Instagram for video if you will.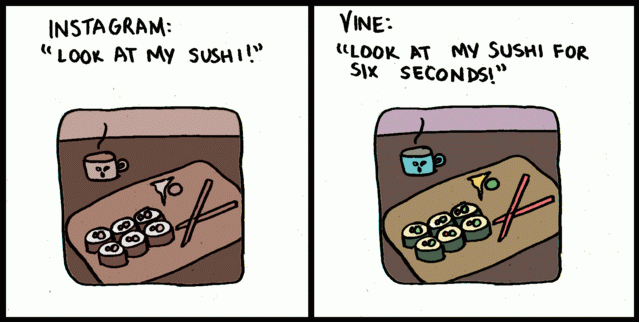 The entirely homogenous UI is simple and really intuitive. User experience is basic, you simply touch the camera viewer on the screen to start recording. You can start and stop as many times as you like up until 6 seconds is recorded. That clip is then tagged and uploaded. Simple right?
Then something happened. Porn arrived on the Vine. Easily #hashtaggable clips of naughty bits were simple to find, and the tech press went crazy. Vine's terms of service don't forbid you to upload adult content, but Apple's clearly do. They pulled 500px off the app store when a boob or two starting showing up in the feed.
Also Facebook pulled their 'find your Facebook friends' API for Vine as it has a policy against app that 'bootstrap their growth in a way that creates little value for people on Facebook', which translates as 'crap! we should have done something like this'
Time will tell if Vine is the future of social video, Porn ultimately decided the outcome of digital media format wars of old, so it is fitting that it has a say in the future of Social Networking.
Anyway, here is a little clip I made called 'sugar'
Sugar vine.co/v/bJ27OhlTrXh

— Maveco (@supermaveco) January 30, 2013
Vine is currently only on iPhone and iPod Touch.